About Us
                       Paul Anderson Sr. 1950's (Owner's Grandfather) 
In 1947,  Paul  Anderson  Sr.  before he finished  high  school  and began  working on the loading dock for Swift Meat Company in Colorado. During his breaks, he would head inside to learn what he could about the trade of meat cutting and eventually learned enough to be the lead cutter, setting off a steady progression of learning and advancing through the entire industry. By 1975, he was ready to do it on his own and that year, he founded the Anderson Boneless Beef Co. with his three sons.
Anderson Beef started out focusing on quantity, fulfilling contracts for suppliers to McDonald's, as well as one of the largest hot dog manufacturers in the nation. But as time went on, they transitioned to higher quality cuts, serving restaurants and hotels. In their most wholesome days, they serviced 5,000 restaurants per week.
After the passing of Paul Anderson Sr. in 2003, followed by his wife in 2006, the family business was in disarray with each of the three sons desiring a different future. The next year, the family business was sold. 
Having learned butchery under my father's guidance, I wanted to continue the family tradition and started Anderson Reserve in 2009. My goal was to make our meats available to the general public, both online and in retail. My grandfather had always dreamed of having a retail store, and I'm humbled to make it a reality in Sweet, Idaho. The design of the barn takes our family's tradition to a new level, where our fine meats can be enjoyed in an extraordinary atmosphere.
An Exquisite Market Experience:  a peaceful, rural atmosphere with high quality and private reserve meats, wines, cheeses, and spices. 
The Barn at Anderson Reserve is a combined custom butchery, market, and tasting experience. Whether you are searching for that hard-to-find specialty cut or stopping in to choose from our perfectly portioned pre-cut selections, our hand-crafted meats are sure to be the talk of the table. During your stay, enjoy a glass of wine and allow us to recommend pairings that excite your culinary desires. 
Events
The Cigar Silo Is Now Open!!!!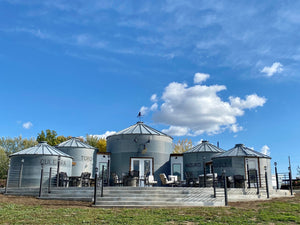 The Cigar Silo Ribbon Cutting
Wednesday, November 1, 2023